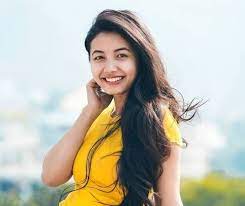 Surabhi Das is an Indian actress and model from Assam. She had featured on many prints shoots and ads during her modelling days.
She hails from Nalbari, Assam and has completed her primary and higher educations from the same state.
Though Surabhi started her career in modelling, she was more passionate about acting. Hence, on trying her luck, she could finally lay her acting career's foundation in Assam's entertainment industry and in 2019, she gained immense household fame in the whole of Assam for featuring in the TV serial Parineeta. She has also featured in many Assamese music videos like 'Sui Jaai', 'Tumake Napale', 'Tumi Jun' etc.
After the release of the Bollywood movie Mary Kom, a record-breaking leap has now been taken by the Hindi entertainment industry has been taken by addressing the social issue of racism within India, particularly targeting the people from the North-Eastern states of the country (including the seven sister states and Sikkim). The initiative that is being discussed herein is the airing of a brand new Hindi show on the life journey of a North-Eastern girl from Sikkim and the various eminent hurdles and obstacles she faces after travelling with her husband to Mumbai.
This year, Surabhi is all prepped up to make her first-ever television debut in the Hindi entertainment industry by playing the titular lead role in the television show Nima Denzongpa, which would be aired on Colors TV. For the first time ever in the history of the Hindi entertainment industry, a North-East Indian actress would be playing the lead role in a Hindi show and the heinous act of regional racism would be highlighted through this show, along with the actress' on-screen character's struggling journey of gaining basic social status, recognition and respect in India's mainland.
The plot of Nima Denzongpa revolves around a simple North Eastern girl from Sikkim named Nima Denzongpa, who falls in love with a guy from Mumbai (Maharashtra). Eventually, the duo gets hitched and this initiates Nima's dream marital life. However, this is where Nima's life would turn upside down as she would be travelling to the 'City of Dreams' – Mumbai with her husband; which is totally new to her.
As soon as she arrives at her husband's locality, she observes that every single resident of that locality is staring at her and calling her out by using racial slurs like 'momo', 'parlour waali', etc. Now, Nima gets the biggest shocker of her life when her mother-in-law also targets her by passing racial slurs like 'momo' and even disowns Nima as her 'bahu'.
So how Nima will overcome all these challenges gracefully and earn social respect in a completely new city is the main concern of the show's plot.
Now, in a recent interview, actress Surabhi, who will be seen enacting Nima's role on-screen, shared her thoughts and experience regarding gelling well in the Indian showbiz world after coming from Assam and the similarities and differences she could spot in both Hindi and Assamese entertainment industries.
Sharing her experience, she was quoted saying, "Jo hamare yahan TV industry chain that is like a smaller than these industries, so people are there less. Jo hum kaam karte hain ek team mein wahan pe kam log hote hai, yahaan pe bohot zyaada log hote hai.".
Surabhi expressed, "Phir yahan pe kaam karne ke taur-tareekein kuch alag hote hai wahan ke alag… wahan Assam mein mujhe bohut acha laga kaam karke aur agey bhi agar karenge toh bhi I'm looking forward.".
She further stressed that since her advent in the Hindi industry, she's very much loving it based on what all shooting she has done here so far. "I'm looking forward to many more!", Surabhi concluded.