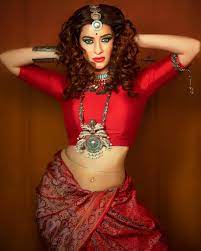 Dangal TV is coming up with a host of new content on television.
Nishant Singh Malkhani and Nyra Banerjee feature in a new presentation titled Rakshabandhan and the show has recently gone on air.
Apart from Nishant and Nyra, the show also stars Sanchita Banerjee, Mansi Purohit, Saksham Sharma and Hardika Sharma who have been cast for the show. In an exclusive conversation with Nyra, she shared her experience shooting for the show.
Nyra said, "It is amazing and I am having a good fun. I usually don't like playing negative roles but this is very good and fun shooting. Nishant is very nice and I have worked with him earlier as an actor. It is nice working again with together. The reason I signed this show is because this character has me playing the negative and positive role. I am the protagonist and the antagonist."
We further asked Nyra that amid the bigger GEC's where there is such a competition, what makes her feel there is no risk in signing a show on a new channel.
"Honestly, I am glad there are new channels coming up. Dangal is brining content which is one of a kind and is attempting at delivering a visual experience to the audience. On the other hand, it is also a good opportunity for us actors as they are hiring us to bring forth this content. I am glad to be a part of a show and associated with the channel since its inception."
Keep reading this space for more information.