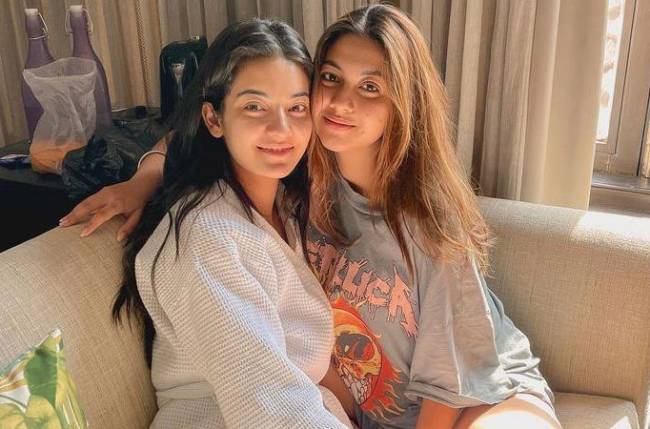 Zee TV has always aimed at providing its audience with relatable content through its various shows. Two of its serials, Tujhse Hai Raabta and Qurbaan Hua, have kept their viewers at the edge of their seats through numerous twists and turns in the love story of Kalyani and Malhar as well as Neel and Chahat respectively. While these characters might not be connected with each other in any way, looks like the actors definitely share a close association.
The cast of Tujhse Hai Raabta and Qurbaan Hua have always cheered for each other, but little did anyone know that the leading ladies of both the shows would become besties one day. Reem Shaikh and Pratibha Ranta started bonding from the time they met each other at Qurbaan Hua's launch party last year and ever since, they share a great bond. In fact, with their shows shooting close by, Reem and Pratibha have been spotted hanging out with each other more often than usual and have become the new besties in town. They also were living together recently, just like Monica and Rachel in Friends!
As Reem Shaikh reveals, "Pratibha and I have known each other for a while now. With Full House Media producing Qurbaan Hua as well as Tujhse Hai Raabta, Sehban and I had met Pratibha at their launch party last year. While we have known each other for a very long time now, it was only recently that we started shooting near each other's sets and by spending more time with each other, we got really close. I must say that Pratibha and I are really similar as individuals, we have similar thoughts as well as the same taste in a lot of things, be it music, dance or anything else. We talk a lot about going on trips together and our first destination will be Shimla as it's Pratibha's native place. With our hectic work schedules, we didn't get a chance to spend as much time earlier as we would have liked to. However, now that our sets are nearby, we catch up during our lunch breaks and tea breaks, as well as chill together, post pack up. In fact, we were also sharing a villa together and it was as if we were Monica and Rachel sharing an apartment in Friends. I must say it has been amazing knowing someone like Pratibha, we have become really good friends and I love her to the core."
While Reem and Pratibha are surely giving us some major friendship goals, a lot of drama and fresh twists are going to spice up things in Tujhse Hai Raabta as well as Qurbaan Hua.
To know more, tune into Tujhse Hai Raabta and Qurbaan Hua every Monday- Saturday at 8:30 pm and 10:30 pm respectively, only on Zee TV!